This week's TTT topic is: book series I've given up on. I had a think about this for a little bit and since I didn't feel comfortable including any series where I only read the first book before going, nah, not for me, I was running a bit short on selections. Instead I'm going with Jana's (That Artsy Reader Girl) provided alternative which is: series I'd still like to finish someday. To give myself some more options, I'm also including series I want to continue with at some point. For me, this means the series hasn't finished being written yet but I'm a little behind on it.
The Lunar Chronicles – Marissa Meyer

I only started this series last year so it's definitely not the oldest unfinished one on my shelves. At this point I've only got one book to go, Winter, which is relatively sizeable. I've been really enjoying it so far, mostly because the characters are strong, different, funny, AND ethnically diverse, which is always great. It's a really well done fairytale retelling series but there's still a lot of originality which keeps it feeling fresh, fun and surprising.
---
The Inheritance Cycle – Christopher Paolini

It feels like I've had only one book left in this series FOREVER. Oh wait, it actually has been forever. I've reread books one and two quite a few times over the years, and read book three once, but for some reason I never make it all the way through. I get busy, or distracted, or something. I'm determined to get there though, it will happen! Watch out Eragon & Saphira, I'm coming for you…eventually.
---
The Mortal Instruments – Cassandra Clare
I gave up on this series after reading City of Fallen Angels years ago because it was so annoyingly bad. The problem is, I now really want to read The Dark Artifices and after reading about 180 pages into Lady Midnight, I found myself fairly lost. Then I realised some of the characters and backstory had been introduced in City of Heavenly Fire. I'm sure you can see where this going. So yes, I'm going to reread the first four books, finish the rest of the series and then finally make my way back to Lady Midnight. Lord save me from death by Clace angst.
---
The Raven Cycle – Maggie Stiefvater
The Raven Cycle is one of those series that I felt pressured to read because of the amount of love the books get online. I found The Raven Boys a bit of an average read. It had it's moments, but the tone and plot was always slightly odd. However, still I persisted – I mean, people LOVE these books, right? I had to be missing something. This idea pushed me through the next two entries in the series and unfortunately I still don't fully get the crazy level of devotion people have to them. However, because of all my answered questions, as well as the amount of time I've now invested, I feel like I have to finish it all off by reading The Raven King, so that's what I'll do.
---
Mistborn Trilogy – Brandon Sanderson
I read The Final Empire a few years ago back when I was at university and quite enjoyed it. The magic system was really original, the characters were interesting, the book got me with a twist about two thirds in, and I really loved the idea of the hero defeating the villain only to become one. I've had the second book for a while but haven't been in the mood to read it yet. I'd definitely like to in the future though.
---
The Grisha Trilogy – Leigh Bardugo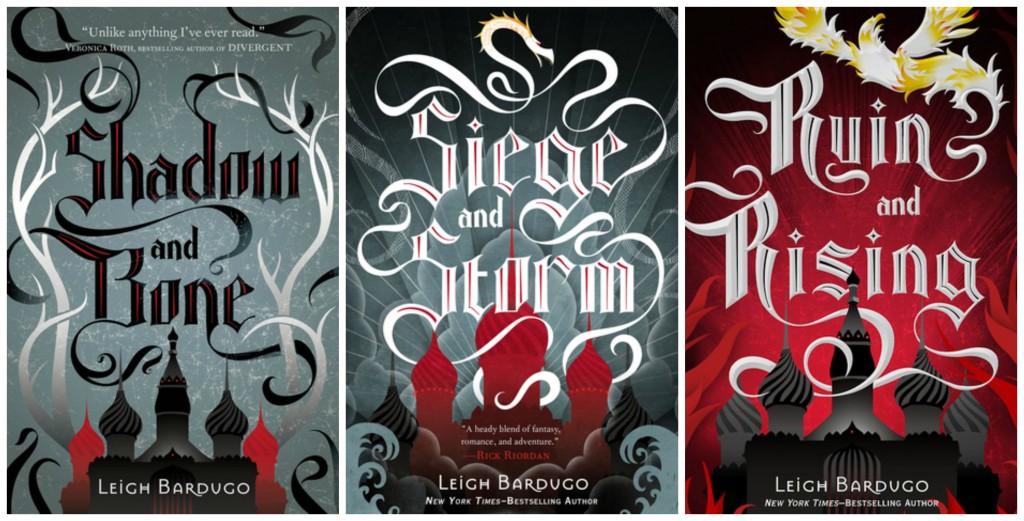 Originally, after finishing Shadow and Bone I had intended not to read anymore of this series. Mostly because the plot felt a little mediocre and I found the idea of Mal as Alina's love interest extremely boring. However recently I've been thinking that I might finish the series after all. This is in large part due to the fact that I'd like to get a proper introduction to Nikolai (everyone seems to adore him) so that if I end up wanting to read King of Scars, I'll be able to do so.  I also happen to be a fan of The Darkling as a villain so if I keep going, I'll get some more development with him too.
---
Poison Study Series – Maria V. Synder
I read Poison Study a long time ago now, we're talking way back, when I was in mid high school. At the time it seemed like another series I didn't think I would continue with. Like the Grisha books though, recently I've been seriously considering going back to it. It seems weird but I think that now, having gotten a bit older and read more widely, I'd enjoy the book a lot more than I first did. Guess the only way to find out is a re-read.
---
Outlander Series – Diana Gabaldon

This is the first series on my list that isn't actually complete yet, although it's about eight books plus several novellas and spin offs in already. These are really long novels at around a thousand pages each so they do take a fair amount of time to get through, which means you really need to be in the mood. I took a break after reading Drums of Autumn as it wasn't exactly my favourite in the series and I've heard that the next one, The Fiery Cross is the low point in the books before they very successfully pick up again. The motivation isn't there right now, but it will be further down the line.
---
A Song of Ice & Fire Series – George RR Martin

This is another series which is still many years off being finished and one in which each installment is extremely chunky, requiring motivation and concentration. When I began these a few years ago I read several very close together and burnt myself out a little about two hundred pages into A Feast for Crows. I'd like to go back to the series some day but not right now. However, considering the pace at which Martin writes, I can probably take as much time as I need.
---
Red Sparrow Trilogy – Jason Matthews

I enjoyed the first book in this series a lot more than I thought I would when I read it a few months back (even with the constant references to Dominika's clothing). I don't read a lot of espionage or thrillers so it's nice to have something different on occasion. After the end of book two, I'd like to continue on with the series and see where it leads.
---
Which series do you have plans on reaching the end of soonish (or sort of soonish, or maybe even just before you die)? Are there any series that you've given up on part way through because they declined in quality?