This week's Top 10 Tuesday topic is a freebie relating to Page to Screen. As I've already done two lists on great book adaptations and another on books I wish would be adapted, this time I'm doing a list of adaptations that I haven't yet seen but would like to! Admittedly, I haven't read many of the books these films & shows are adapted from, but I guess that doesn't really matter all that much.
There are a lot of books out there where the rights have been purchased for adaptation or an adaptation is currently in the works but still a way off. For the purposes of this list, I'm just focusing on adaptations that have already been released or will be very, very soon.
Killing Eve (2018 – Present, Series)
This series has been "killing" it lately (Drums: Ba dum tsh). But really, I have yet to hear a negative thing about it and it's winning a bunch of awards. I love the fact that it features two strong female leads and Sandra Oh is absolutely fabulous. It's about an MI5 agent, Eve, who becomes obsessed with catching a talented assassin known as Villanelle, leading to a high stakes game of cat and mouse between the two. The series is based on the Codename Villanelle novella series by Luke Jennings.
Good Omens (2019, Limited Series)
Okay, technically this adaptation isn't out yet but considering it's set to be released at the end of the month, it counts. Based on the book by Neil Gaiman and Terry Pratchett, the series follows a demon, Crowley, and an angel, Aziraphale, who team up to prevent the end of the world following the coming of the anti-Christ. The series has a fantastic cast, with the two leads played by Michael Sheen and David Tenant (who are both amazing!). It just seems like it'll be a lot of really weird fun.
Gone with the Wind (1939, Film)
Both the book and movie adaptation of Gone with the Wind are considered classics. It's one of those films that you see pop up every so often, mostly because people are quoting Rhett's parting line. I've always been curious about seeing it and almost did watch it on a international plane trip but somehow it's never happened. Maybe because it's about 3 hours long? Still, I'd like to give it a go and see for myself how the failed romance between good old Scarlett and Rhett went so very wrong.
The Green Mile (1999, Film)
People have been telling me how good The Green Mile is ever since I was a kid. It's considered to be one of the better Stephen King adaptations and what can I say, it's pretty much impossible not to like Tom Hanks. The film (& book) tells the story of an African American man who is charged with the murder of two young girls and brought to a correctional facility. Shortly after, the guards begin to notice him performing what appear to be miracles of healing. I've actually seen a few small snippets from this but I'd like to see the whole thing. I know the ending is sad, but I'm sure it'll be a good watch.
The Miseducation of Cameron Post (2018, Film)
I'm not entirely sure why I'm keen to watch this one, I just am. The word is that Cameron Post is supposed to be a decent coming of age film with wit and emotion. It tells the story of a lesbian teen in the 90s who is sent to a conversion therapy centre by her conservative relatives after she's caught kissing a girl on prom night. It's always good to see stories not shying away from some of the murkier parts of history and featuring sexually diverse characters. At the very least, I think it'll be something different from my usual.
V for Vendetta (2005, Film)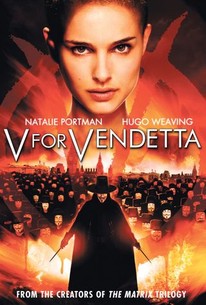 I've been putting this one off for years now. Worse, we even have it on DVD and I STILL haven't got there. Like, what are you doing, Ashley? Technically this one's based off a comic series (by Alan Moore & David Lloyd) so I'm stretching the whole "book" thing here, but it's an adaptation so I'm counting it. I like Hugo Weaving and Natalie Portman so the idea of seeing them portray masked vigilantes using terror tactics to fight back against a fascist regime sounds pretty darn cool.
A Walk to Remember (2002, Film)
Yes, yes, we all like to make fun of old Sparky and his tear-jerker books, but there's always a time and a place for them. This movie was extremely popular back when I was at school and yet, somehow I completely missed seeing it. Who knows how? I don't mind The Notebook and I like Safe Haven, so I may end up enjoying this one. Next time I'm up for some emotional manipulation and a chance to get reacquainted with the black hole of sadness in my chest, I'll pop it on.
After (2019, Film)
Yes, you read that right. This dumpster fire of a film is on my to-watch list – just look at the poster, for crying out loud. I haven't read the book but after watching the trailer for the movie, I feel the desire to watch the damn thing just to see if it can possibly be as bad as it looks. Well, that and because guaranteed there will come a time in the future where I need some trash viewing. Come on, we all do it. I'm hoping to find a heap of so awkwardly bad moments, much like Fifty Shades (the toast!), that it ends up being funny.
The Expanse (2015 – Present, Series)
Finally! A book I've actually read…that's part of a series of seven other books which I have not read. Regardless, I like a good bit of sci-fi and I've heard great things about this series. Its fans love it so much that Netflix actually saved it when Syfy decided to cancel it. The plot is complicated – a ragtag crew of ice haulers travelling across the universe, a conspiracy that threatens galactic peace, and a police detective tracking down a missing woman. I've had this on my to-watch list since it first started but I've just never been in the right mood for it. I'm hoping I'll get there soon.
The Man in the High Castle (2015 – Present, Series)
I love a good period piece and the concept of this series just sounds great. Based on the novel by Philip K. Dick, it looks at what would have happened had the Axis powers won WWII. The series is set in alternate 1962 and details what happens when several people mysteriously find reels of film showing Germany actually losing the war. I was a history major at university, so this kind of thing is right up my alley. Now that I've got an Amazon prime subscription, I should probably sit myself down and finally watch it.
And there we have it, ten adaptations I'd like to see. Sometimes adaptations are good, sometimes they're…well downright terrible. I haven't read the source material on a lot of these but I feel as though that can often be beneficial because there's nothing to compare it to. Guess I'll have to find out.
What book adaptations have been on your to-watch list for a while?