As you can tell from the title of this post, I'm back with three more upcoming 2019 releases for you to potentially look forward to. Let's cut right to it.
---
Enchantee – Gita Trelease | Feb 5th

Paris in 1789 is a labyrinth of twisted streets, filled with beggars, thieves, revolutionaries—and magicians…
When smallpox kills her parents, Camille Durbonne must find a way to provide for her frail, naive sister while managing her volatile brother. Relying on petty magic—la magie ordinaire—Camille painstakingly transforms scraps of metal into money to buy the food and medicine they need. But when the coins won't hold their shape and her brother disappears with the family's savings, Camille must pursue a richer, more dangerous mark: the glittering court of Louis XVI and Marie Antoinette.
With dark magic forbidden by her mother, Camille transforms herself into the 'Baroness de la Fontaine' and is swept up into life at the Palace of Versailles, where aristocrats both fear and hunger for la magie. There, she gambles at cards, desperate to have enough to keep herself and her sister safe. Yet the longer she stays at court, the more difficult it becomes to reconcile her resentment of the nobles with the enchantments of Versailles. And when she returns to Paris, Camille meets a handsome young balloonist—who dares her to hope that love and liberty may both be possible.
But la magie has its costs. And when Camille loses control of her secrets, the game she's playing turns deadly. Then revolution erupts, and she must choose—love or loyalty, democracy or aristocracy, freedom or magic—before Paris burns…
---
I love historical settings, especially France around the time of the revolution. It's always been one of my favourite periods to study. It's just such an interesting time with so much happening, so I'm super excited! Plus, the fact that Trelease has introduced magic into that setting, I'm like YES. Additionally, I never can resist a good, scrappy heroine stuck in a tight place. The early reviews for Enchantee seem to be good and the writing is reportedly beautiful. I should also point out there's apparently a sweet love interest and he's a balloonist. Sign me up.
Add on Goodreads
Priory of the Orange Tree – Samantha Shannon | Feb 26th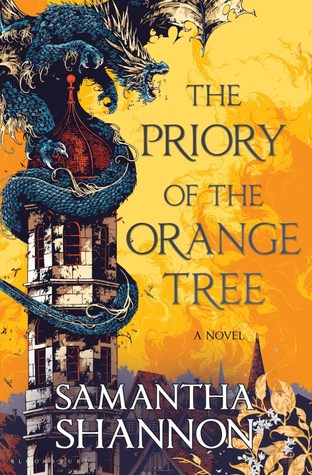 A world divided.
A queendom without an heir.
An ancient enemy awakens.
The House of Berethnet has ruled Inys for a thousand years. Still unwed, Queen Sabran the Ninth must conceive a daughter to protect her realm from destruction—but assassins are getting closer to her door.
Ead Duryan is an outsider at court. Though she has risen to the position of lady-in-waiting, she is loyal to a hidden society of mages. Ead keeps a watchful eye on Sabran, secretly protecting her with forbidden magic.
Across the dark sea, Tané has trained all her life to be a dragonrider, but is forced to make a choice that could see her life unravel.
Meanwhile, the divided East and West refuse to parley, and forces of chaos are rising from their sleep.
---
I'm super keen for this one. It's an absolute monster and the size of an enormous brick but still. I really enjoy Samantha Shannon's The Bone Season series so I'm looking forward to seeing her try her hand at some epic fantasy. She sounds very passionate about this book and has been working on it for years. The cover is stunning and there's dragons. Need I say more?
Add on Goodreads
Lady Smoke (Ash Princess 2#) – Laura Sebastian | Feb 5th
The Kaiser murdered Theodosia's mother, the Fire Queen, when Theo was only six. He took Theo's country and kept her prisoner, crowning her Ash Princess–a pet to toy with and humiliate for ten long years. That era has ended. The Kaiser thought his prisoner weak and defenseless. He didn't realize that a sharp mind is the deadliest weapon.
Theo no longer wears a crown of ashes. She has taken back her rightful title, and a hostage–Prinz Soren. But her people remain enslaved under the Kaiser's rule, and now she is thousands of miles away from them and her throne.
To get them back, she will need an army. Only, securing an army means she must trust her aunt, the dreaded pirate Dragonsbane. And according to Dragonsbane, an army can only be produced if Theo takes a husband. Something an Astrean Queen has never done.
Theo knows that freedom comes at a price, but she is determined to find a way to save her country without losing herself.
---
Ash Princess was a predictable, trope filled story which I went into with low expectations and ended up having a pretty enjoyable time reading. I'm looking forward to seeing Theo come into her own a bit more in the sequel (even though I'm a little worried about this whole take a husband thing), exploring the interesting magic system introduced in book one, and perhaps getting closer to seeing the Kaiser get his just desserts. I get the feeling we'll see more of Cress in this book based on the title which I'm unsure about, but I guess I'll just have to find out.
Add on Goodreads