It's April! And that means it's time…for another O.W.Ls Magical Readathon! If you've been following my blog for some time then you'll know this is the third year I've done this particular Harry Potter themed readathon, created by G at Book Roast. However, for those of you who are new to it, the magical readathon has two parts, O.W.Ls (April) and N.E.W.Ts (August), and it's based around the exams Hogwarts students take in their fifth and seventh years of schooling. For O.W.Ls, participants are given a series of prompts, each of which relate to one of the subjects young wizards study. In order to pass a subject, all you have to do is read a book, comic, manga, graphic novel, etc. which fits the prompt. Easy, peasy!
My Magical Career & Required Subjects
For those readers who want an extra challenge, there's also the choice of a wizarding career! In 2019, G created a guide book to the fun and bizarre range of jobs that we young wizards (I wish) can choose to "pursue" during the readathon. But just like in the boring muggle world, each career has a list of pre-requisite subjects which must be completed, thus shaping which prompts you do.
This year I've decided to work towards the glamorous and illustrious career of…Trader of Magical Tomes. Acquiring, selling and learning about magical books? Um, yes please. Okay, maybe not The Monster Book of Monsters but otherwise, sounds good. Also, having my own bookshop sounds amazing. In order to succeed in my chosen career, I need to complete 4 O.W.Ls – Ancient Runes, Charms, History of Magic, and Transfiguration.
---
Heart rune: Heart on the Cover or in the Title
Heartless – Marissa Meyer
This was a tough pick for me. Not because there aren't books which meet the prompt but for some reason none of them were grabbing me and screaming: you must read this! For now, I've decided to go with Heartless. I've heard positive things about this book in the past and having read three of The Lunar Chronicles books and enjoyed them, I know Marissa Meyer does well when it comes to re-imagining existing stories in creative ways. I'm interested to see how she does with the Queen of Hearts and the world of Alice in Wonderland. Definitely have to find myself a copy of the hardback though because that jacket-less cover is fabulous.
---
Lumos Maxima: A White Cover
In Cold Blood – Truman Capote
There were two different covers available to me when I picked this one up at my usual bookstore. I'm glad I ended up going with the white rather than the red (which didn't really float my boat) so I could use it for this prompt. I've been thinking about reading In Cold Blood for a while now. It's something I've definitely been curious about and is even listed on my 30 books to read in 2020 list. I never read true crime novels and this book is considered one of the defining books of the genre so it'll be a new experience for me and I really hope I find it interesting. It's also only around 300 pages which makes it great for a readathon pick.
---
Witch Hunts: A Book Featuring Witches/Wizards
Gideon the Ninth (The Locked Tomb 1#) – Tamsyn Muir
I'll be honest, I was determined to find a way to read this book because I'm super excited about it even though there's about a 50-50 chance I'll like it due to the confusion factor. GtN is a sci-fi and fantasy genre blend, but the book deals with necromancers which is a type of magic/wizardry as far as I'm concerned. Just a very dark kind. The book follows a swordfighter named Gideon who travels with a necromancer (& planet ruler) named Harrowhark to attend a competition between necromancers to win the favour of the emperor. However, things go a bit haywire when the other competitors start to get murdered.
---
Animagus Lecture: Book/Series that Includes Shapeshifting
Sword of Destiny (Witcher 0.75#) – Andrzej Sapkowski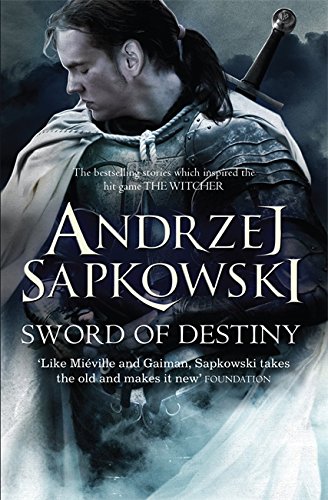 Yes, it's taken me more than a year and a half to get there but I'm finally reading the second collection of The Witcher short stories. I was hoping to tackle this earlier in the year (tried to buy it at x-mas but they were all sold out!) but as it turns out, it's a good thing I didn't, because then I wouldn't have been able to use it for this prompt. This collection includes dopplers, which are shapeshifters, and introduces us to Ciri, a vital character in the main book series. It also includes the story, The Bounds of Reason, which is about a dragon hunt and was used as the basis for one of my favourite episodes in the Netflix TV series.
---
Additional Courses, Seminars & Training Subjects
Now, aside from the careers and their subjects, G has made a new addition to this year's readathons and that is 'courses, seminars and training'. These are optional add-ons which cover things like animagus training, dragon tamer training and learning to operate magical trains. Each course or seminar, should you choose to do them, provide additional subject requirements. Some are more difficult than others.
Alongside my career, I've decided to also take two extra courses:
Magical Shop Management (Essential if I want to run my own magical book shop, Flourish & Blotts better watch out!)

Additional subject required: Arthimancy

Merpeople Linguistics (Might be useful in my magical research? Okay, maybe not. It just sounds quirky and fun, and I have to do it)

Additional subject required: Herbology
Magical Qualities of Number 2: Balance/Opposites – Read Something Outside Your Favourite Genre
Fence, Vol. 1 – C. S. Pacat, Johanna the Mad, Joana LaFuente, Jim Campbell
I think it's fairly obvious that my favourite genre is fantasy. I read a lot of it. You know what I don't read? Books about sport. You know what I also don't read a lot of? Graphic novels & comics. So why not simply jump off the deep end and try Fence Vol 1. What have I got to lose? I've heard really great things about this series. It's supposedly plot driven, fast paced, LGBTI positive and has great characters. I read C. S. Pacat's The Captive Prince trilogy a while back so it'll be interesting to see how her writing changes with a different genre and medium. I hope I find a new fave!
---
Mimbulus Mimbletonia: Title Starting with an 'M'
Morning Star (Red Rising Saga 3#) – Pierce Brown
As some of you may have seen in my recent posts, I've been doing a re-read of the first three Red Rising books with the intention of pushing on into Iron Gold and Dark Age (which are sitting on my shelf already). I read books 1 & 2 last month and now I'm moving on to Morning Star. This is my favourite book of the original three so I'm super excited to experience it for a second time. Because it's something I know and love, I'm hoping I'll be able to read it super quickly, just like I did with RR and Golden Son.
---
Will you be participating in the O.W.Ls magical readathon this year? If so, what career have you chosen and which books are you most excited to read?