Having just finished another Rick Riordan book, it felt like this particular tag was calling my name when I stumbled across it the other week. However, from what I can see there are two variations of it. For the most part, they're the same except for a couple of prompts in the middle and at the end so with those, I kind of just picked whichever of the two options I felt like doing. I'm a bit unsure where the tag originated from but if you know, pass the info on. Okay, let's meet the Gods, shall we?
---
Zeus, The King Sky God
Favourite Book
Why do you guys insist on making me choose between my beautiful babies? It's NOT possible! There are so many amazing books out there that limiting myself to one seems unfair. So, unfortunately, I'll have to pass on this one.
---
Poseidon, God of the Ocean
A Book that Drowned you in Feels
The Guernsey Literary and Potato Peel Pie Society – Mary Ann Shaffer & Annie Barrows
This is a book of so many mixed emotions. There are some really sweet moments between the characters (they're all really loveable) but there's also a few heartbreaking ones with regards to recollections from the war and finding out what happened to certain people.
---
Hades, God of the Underworld
A Book with a Dark/Ominous Plot
Gone Girl – Gillian Flynn
If there's one thing you can say about Gillian Flynn's books, it's that they're a tad dark. She really digs into the not so pleasant parts of people and uses them to create twisted stories. No one is perfect and everyone has ulterior motives. Even the ending of this one is pretty bleak.
---
Hera, The Queen Goddess of Family and Marriage
Cutest Fictional Couple
Percy Jackson & Annabeth Chase (Rick Riordan books)
There are a lot of fictional couples that I adore but not all of them are what I'd describe as "cute". I haven't read much of them as a couple yet, but so far Percy and Annabeth are definitely cute. I like the fact that they were friends first and that they complement each other so well – Annabeth is practical and thinks about things first while Percy tends to dive into things head on.
---
Athena, Goddess of Wisdom and Battle Strategy
Favourite Intelligent Character
Hermione Granger (Harry Potter Series – J. K. Rowling)
I really should try to vary my answers a bit for these tags but eh, Hermione's my girl. It's not hard to see why she's called the brightest witch of her age. Good thing too, she needs to be to make up for all the stupid stuff Harry and Ron tend to do. I mean, she was petrified in book two and still managed to give them the necessary information to help them solve the mystery.
---
Gaea, The Great Mother
Series with the Best World Building
The Lord of the Rings – J RR Tolkien & A Song of Ice and Fire – George RR Martin
This one's a tie for me. I don't think anyone can deny the world-building skills of these two authors. I'm not a huge fan of Tolkien's writing style but the man created maps, languages, history, music, races, everything you need for a rich fantasy world. Martin's worlds are also fantastically rich, which is probably why his novels are enormous and take so long to write.
---
Aphrodite, Goddess of Love and Beauty
A Beautiful Cover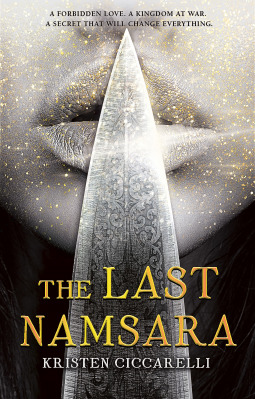 The Last Namsara -Kristen Ciccarelli
I get asked this question in a lot of book tags and in an attempt to try and not reuse the same answers over and over again *cough* Strange the Dreamer *cough*, I'm going with this one. While I found the book itself to be a bit of an average read, I think the cover is lovely. It's just so sparkly.
---
Aries, God of War and Battle
Most Violent Book you've Read
Godsgrave (Nevernight 2#) – Jay Kristoff
I almost went with The Hunger Games on this one before I realised that much of the violence actually happens off-screen. Instead, I've gone with Godsgrave. Nevernight is pretty violent as well (not that I have a problem with it) but Godsgrave has assassins AND gladiators. There's bloody chariot races, giant worms burning people with acid stomachs, and lots of stabby, stabby.
---
Hephaestus, God of Blacksmiths and Flame
A Scorching Hot, Swoon-worthy Character
Jamie Fraser (Outlander series – Diana Gabaldon)
As if there was any question about how I'd answer this one. I ♥ Jamie. While he certainly has some not so good moments, he always tries to learn from them. He's kind, brave, and treats Claire as a partner. Oh, and he's hot. Can't forget that part.
---
Artemis, The Virgin Goddess of the Hunt
A Heroine who Doesn't Need a Man to Save her
Rose Hathaway (Vampire Academy Series – Richelle Mead)
Rose is one of my favourite heroines and she has been since I was in high school. She's one of those rare MCs that you actually could say is your favourite character. Rose is spunky, passionate and she kicks so much ass.
---
Apollo, God of Music, Light, and Healing
A Sequel that Redeemed its Series
Golden Son (Red Rising 2#) – Pierce Brown
Redeemed isn't really the word in this instance (the only one that would work for me is  A Court of Mist and Fury by SJM and I don't want to use it for the umpteenth time) but I scored Golden Son higher than the original book, Red Rising, which is very, very rare for me. It's a fantastic sequel in a fabulous series. Highly recommend.
---
Hermes, God of Messages, Travelers, and Thieves
Book with the Best Message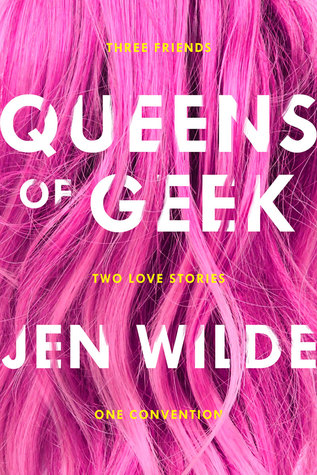 Queens of Geek – Jen Wilde
There are quite a few books out there that have really nice messages so for this tag I've decided to go with Queens of Geek. This novel is massively diverse and inclusive, but even better, it promotes kindness, equality, women supporting other women, self-love, and putting yourself out there even though it might be scary to do so. While there may not be much of a plot and the writing is a little simplistic at times,  it's definitely a feel-good book.
---
Hestia, Goddess of Hearth and Home
A Book you go to for Comfort
Alanna: the first Adventure (Song of the Lioness 1#) – Tamora Pierce
To avoid using Harry Potter AGAIN, which really is my go-to comfort series, I'm going with Alanna: the First Adventure (which yes, I know I've mentioned a few times in the past but too bad). It's the first book in one of my favourite series from childhood. I can always read these books and be taken straight back to primary school, which for some reason is very reassuring. They're quick, easy reads and Tamora Pierce is a great fantasy writer.  I really should read her newest book, Tempests & Slaughter when I get a chance.
---
Demeter, Goddess of Agriculture and Fertility
Favourite Bookish setting
Hogwarts (Harry Potter Series – J.K. Rowling)
Hogwarts. You could ask me this question a million times and I'll always give you the same answer. I want to go to Hogwarts – hang out in a common room, attend a feast in the great hall, meet the house elves in the kitchens, watch a Quidditch match, take a trip to Hogsmeade, walk the grounds with Hagrid, chat with ghosts, play a game of exploding snap, try out the room of requirement, I WANT TO DO IT ALL.
---
Dionysus, God of Wine and Feasting
Most anticipated 2018 Release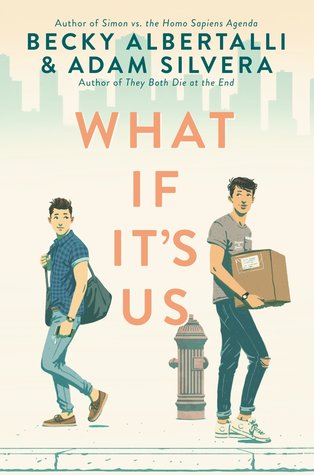 What If It's Us – Becky Albertalli & Adam Silvera
I've mentioned my excitement for Wildcard by Marie Lu & Muse of Nightmares by Laini Taylor before so for something different, here's a YA Contemporary due out in October. What If it's Us just sounds super cute and I think the characters will be really great. I've liked both the Becky Albertalli books I've read so far and I've only heard good things about Adam Silvera. Here's hoping this one's a winner.
---
Hecate, Goddess of Crossroads and Magic
Favourite Magical read
A Gathering of Shadows (A Darker Shade of Magic 2#) – V. E. Schwab
Now, this was another difficult one because I read so many fantasy books that involve magic. I have a lot of favourites but A Gathering of Shadows is definitely high on the list. The book actually involves a magic competition which was immensely enjoyable for me – how could it not be with three of the major characters as competitors?
---
Nemesis, God of Revenge
Favourite Revenge Story
Vicious – V. E. Schwab
Nevernight is probably my favourite revenge story but since I've already used Godsgrave above, Vicious is my pick for this one (yep, another Schwab book. I'm in love, no point denying it). There are a lot of morally questionable characters in this story, which is great. This especially applies to Victor, our male lead, who will do whatever he has to do to get back at Eli, even if it means hurting others. It's different, a little bit dark, and there are x-men-like powers. A great read.
---
You all know the drill, only if you (a) feel like doing it and (b) haven't already. Don't worry, I won't be offended if you don't! If you do, I'm looking forward to seeing your answers!
Lu @ It's Lu Again
Dezzy @ The Thoughtful Voice (for after your mini-hiatus)
Priyasha @ Books and Co.
Kelly @ Another Book in the Wall
Rendz @ Reading with Rendz
If I haven't tagged you and you'd like to do it, go for it!
---
There were some really tough ones in here, you'd be surprised how long it took me to complete this tag. Then again, I probably make it harder by trying not to use things I've answered with recently (however, in some cases I fail, epically).
How would you have answered some of these questions? Do you have a favourite book or are you like me and simply refuse to choose?