The Quiet you Carry is a little different from the YA books I normally read which generally tend to fall into one of two categories – fantasy or cute, romantic contemporary. But sometimes it's good to branch out. I didn't entirely know what to expect from this one other than the fact it would deal with some heavy subject matters and because of that, I went into it without making any assumptions. In the end, some things worked and other things didn't.
Who, What, Where?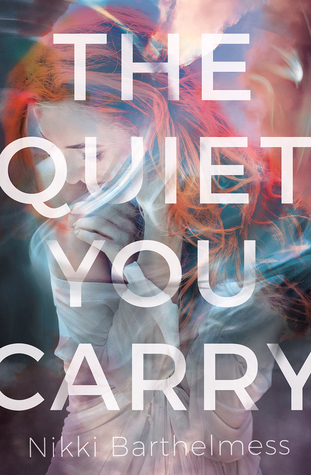 Nikki Barthelmess' debut novel centres around seventeen-year-old Victoria. One night. Victoria's father mysteriously throws her out of the house and as a result, she winds up in foster care. The events of that evening are a blur for Victoria. She believes that there must have been some kind of misunderstanding because if there's one thing she's sure of, it's that her father's account can't possibly be true. To her frustration, she's quickly denied all contact with her family, including her stepsister, Sarah, and moved to an entirely new town and school. With less than a year until graduation, Victoria is forced to adjust to her circumstances and rework her plans for the future. At the same time, she also has to come to terms with the events that led her there if she wants to protect Sarah.
Topics & Triggers
As I mentioned above, the plot of TQyC deals with quite a few difficult topics. Basically, break out those trigger warnings – sexual assault, paedophilia, suicide, eating disorders, children in foster care, and domestic violence. It was interesting to read about a character stuck in a foster care situation written by an author who, herself, grew up in the foster system. Because of this, Victoria's experiences in the system and those of the kids living with her felt genuine and realistic but also gave me a lot of sympathy for children placed in similar or far worse situations.
Plot
Deciding where I stand on the plot is a little tricky. The book starts out fairly well, if a little confusingly, and does manage to hook you out of interest in finding out what happened the night Victoria was thrown out. After this, as it's a character-focused story, the plot does meander a lot without much of an obvious point other than to simply showcase Victoria's experiences and growth. There were certain sections of the book where I was really engaged, especially during some of the big emotional or dramatic moments which were well written and ended up hitting me harder than expected. Then again, there were also long sections, often involving Victoria's internal monologue, during which I found myself getting bored and checking out, particularly around the middle.
Melodrama & Cheesiness
Something that frustrated me a lot as we got closer to the end, especially during the climax and ending itself, is that the writing quickly veered into being extremely melodramatic and even corny. The dialogue seemed sappy and the tone felt so over the top and manufactured that I even found myself rolling my eyes. I mean, there's literally a moment of, "At least we have each other" and even an unnecessary and forced flashback section. As a reader, it's hard to get starry-eyed when everything that's happened is over a period of only about 3 months.
Characters
As a protagonist, most of the time Victoria is fairly likeable and sympathetic. She makes the best of a crappy situation and doesn't give up. However, at times she can be snappy and her attempts to isolate herself against interactions at her new school for so long do become annoying. Still, considering what she's been through, it's understandable.
In terms of side characters, Victoria's new friend Christina is enjoyably spunky, while her love interest Kale is adorably charming. I also appreciated the fact that Barthelmess developed Victoria's foster mother, Connie, into a deeper and more complex character, even if it was a bit sudden. One character I really wasn't on board with was Victoria's father. Not because he's awful (he is) but because he just never felt real to me – he's just a really bizarre character – and this had a big impact on how I saw Victoria's family history and experienced the overall story arc.
---
The Quiet you Carry is an honest and raw read. Even with its weaknesses, I consider this a solid debut with a lot of room for Barthelmess to grow. If you enjoy emotionally complex YA stories which deal with harsh, real-world issues, this may be a good pick for you.
3 Stars