Sorcery of Thorns – Margaret Rogerson (June 4) | GR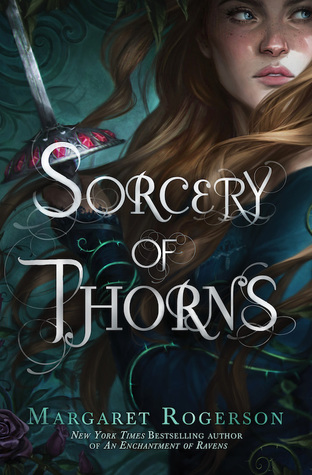 Elisabeth dreams of being a warden at one of Austermeer's Great Libraries – those tasked with protecting the kingdom from magical grimoires which have the potential to transform into monsters. When an act of sabotage releases the library's most dangerous grimoire, Elisabeth is implicated and sent to the capital to face justice. Left with no one to turn to, she finds an unexpected ally in the mysterious sorcerer, Nathaniel Thorn. As Elisabeth's alliance with Nathaniel grows, she finds herself questioning everything she's been taught about the evil of sorcerers, the Great Libraries, and herself, and soon becomes entangled in a conspiracy that could mean not only the end of the libraries but the world.
---
Magic for Liars – Sarah Gailey (June 4th) | GR
Ivy Gamble has never wanted to be magic. She is perfectly happy with her life—she has an almost-sustainable career as a private investigator, and an empty apartment, and a slight drinking problem. It's a great life and she doesn't wish she was like her estranged sister, the magically gifted professor Tabitha. But when Ivy is hired to investigate the gruesome murder of a faculty member at Tabitha's private academy, the stalwart detective starts to lose herself in the case, the life she could have had, and the answer to the mystery that seems just out of her reach.
---
When the Light Went Out – Bridget Morissey (June 4th) | GR
It's been five years since Marley Bricket died by accidental gunshot. On the night of the annual memorial, Olivia Stanton, the only witness to Marley's death, gets an unexpected visitor in the form of Nick Cline. He's the boy who pulled the trigger on what he didn't know was a loaded gun. Since then, nothing in the quiet desert town of Cadence, California has ever been the same.
Nick's surprise reappearance puts all the Kids of Albany Lane in one place for the first time since Marley died. The once-inseparable group of neighborhood friends, formerly led by Marley herself, has disbanded. But when Olivia discovers a scavenger hunt orchestrated by Marley before she died, the group must come together again to complete it, reopening old wounds and unearthing new questions about what really happened. Most importantly, did Marley know the gun was loaded?
---
Ghosts of the Shadow Market – Cassandra Clare, Maureen Johnson , Sarah Rees Brennan, Robin Wasserman , Kelly Link (June 4th) | GR
The Shadow Market is a meeting point for faeries, werewolves, warlocks and vampires. Downworlders buy and sell magical objects, make dark bargains, and whisper secrets. Through two centuries, Brother Zachariah has been a frequent visitor. As a Silent Brother, he is sworn keeper of Nephilim laws and lore. But once he was a Shadowhunter called Jem Carstairs, and his love, then and always, is the warlock Tessa Gray.
Follow Brother Zachariah and see, against the backdrop of the Shadow Market's dark dealings and festive celebrations, Anna Lightwood's first romance, Matthew Fairchild's great sin and Tessa Gray plunged into a world war. Valentine Morgenstern buys a soul at the Market and a young Jace Wayland's soul finds safe harbor. In the Market is hidden a lost heir and a beloved ghost, and no one can save you once you have traded away your heart. Not even Brother Zachariah…
---
The Rest of the Story – Sarah Dessen (June 4th) | GR
Emma doesn't remember a lot about her mother, who died when she was ten. But she does remember the stories she told her about North Lake, where she grew up. Now it's just Emma and her dad, until Emma is unexpectedly sent to spend the summer with her mother's family who she hasn't seen since she was a little girl.
When Emma arrives at North Lake, she realizes there are actually two very different communities there. Her mother grew up in working class North Lake, while her dad spent summers in the wealthier Lake North resort. The more time Emma spends there, the more it starts to feel like she is divided into two people as well. Then there's Roo, the boy who was her very best friend when she was little and who holds the key to her family's history. It's hard not to get caught up in the magic of North Lake and for Emma, it's like a whole new world is opening up to her.
But when it's time to go home, which side of her will win out?
---
Like a Love Story – Abdi Nazemian (June 4) | GR
It's 1989 in New York City, and for three teens, the world is changing.
Reza is an Iranian boy who has just moved to the city with his mother. He's terrified that someone will guess the truth he can barely acknowledge about himself. Reza knows he's gay, but all he knows of gay life are the media's images of men dying of AIDS.
Judy is an aspiring fashion designer who worships her uncle Stephen, a gay man with AIDS who devotes his time to activism as a member of ACT UP. Judy has never imagined finding romance…until she falls for Reza and they start dating.
Art is Judy's best friend, their school's only out and proud teen. He'll never be who his conservative parents want him to be, so he rebels by documenting the AIDS crisis through his photographs.
As Reza and Art grow closer, Reza struggles to find a way out of his deception that won't break Judy's heart–and destroy the most meaningful friendship he's ever known.
---
Recursion – Blake Crouch (June 11th) | GR
NYC cop Barry Sutton has been tasked with looking into the devestating new phenomenon dubbed False Memory Syndrome – a mysterious affliction that drives its victims mad with memories of a life they never lived. Neuroscientist Helena Smith has devoted her life to creating a technology that will not only preserve memories but allow people to relive them.
As Barry searches for the truth, he comes face-to-face with an opponent more terrifying than any disease—a force that attacks not just our minds but the very fabric of the past. And as its effects begin to unmake the world as we know it, only he and Helena, working together, will stand a chance at defeating it. But how can they make a stand when reality itself is shifting and crumbling all around them?
---
The Grief Keeper – Alexandra Villasante (June 11th) | GR
Seventeen-year-old Marisol has always dreamed of being American. What she never pictured was fleeing her home in El Salvador under threat of death and stealing across the US border as "an illegal". After her brother is murdered, her mother goes into hiding, and her younger sister, Gabi's, life is placed in jeopardy, she's left with no choice but to attempt to cross the border. But when Marisol and Gabi are caught, Marisol jumps at an unusual opportunity to stay in the US – become a grief keeper. Tasked with taking the grief of another into your body, it's a risky and experimental study, but Marisol will do whatever she can to protect her sister. She just never expected to fall in love.
---
Dev1at3 (Lifel1k3 2#)- Jay Kristoff (June 25th) | GR
Lemon Fresh has seen better days. Separated from Ezekiel and Cricket, she's being hunted by corporate operatives set on using her ability to manipulate electricity as a weapon. She soon finds herself falling in with a band of fellow deviates led by a figure known as the Major who may have info about her past.
Meanwhile, Cricket falls into the possession of the puritanical Brotherhood, a religious cult set for a collision with the Major and his band. Searching for Lemon, Ezekiel finds a strange ally in an old enemy, and uncovers a plot that may see him reunited with Ana.
And inside Babel, a remade Eve hatches a plan to bring an end to the world.
---
Call it What You Want – Brigid Kemmerer (June 25th) | GR
When Rob's dad is caught embezzling funds from the town, Rob goes from popular to outcast. Worse, his father's failed suicide attempt leaves Rob and his mother responsible for his care.
Everyone sees Maegan as an overachiever, but she has secrets of her own. When her sister comes home from college pregnant, keeping it from her parents might be more than she can handle.
When Rob and Maegan are paired together for a project, they're reluctant to let anyone past their walls. But when Maegan learns of Rob's plan t fix his father's mistakes, it could ruin more than their fragile new friendship…
And there's a snapshot of the month ahead. What new releases are you planning on snapping up this month?