You know me, I never go too long without expressing a lil' bit of the old Harry Potter love. Tomorrow night I'm attending an HP trivia, dress up, and treasure hunt event at my favourite bookstore so it seemed like the perfect time to tackle this chunky HP Q&A tag. It's an oldie, but a goodie. I've no clue where it originated from but if you know, pop it in the comments and I'll give them the credit they're due.
---
1. Favourite Book?
Goblet of Fire has always been my favourite. I love the challenges (come on, dragons anyone?), Draco Malfoy as a ferret, the Quidditch world cup, introduction of the other schools onto the scene, and dramatic ending. Plus, it's the last book before things become dark and serious.
2. Least Favourite Book?
Order of the Phoenix. It's not that I don't like Order of the Phoenix, I do, it's just a lot heavier (in tone and physically) than the previous books. Harry's extremely angsty through large chunks of it, Sirius dies at the end, and I hate how Dumbledore spends the entire book blowing Harry off. Also, Umbridge. She's worse than Voldemort.
3. Favourite Movie?
I adore Philosopher's Stone because it's the very first and has such a purity to it but my favourites are probably Prisoner of Azkaban (Buckbeak, Lupin, time turners, werewolves, so much to love) and Deathly Hallows Part 2 (it's not exactly true to book but I love the epicness of the fight sequences).
4. Least Favourite Movie?
Order of the Phoenix. Now, this was a book that could have used two films. They stripped that novel down to the barest of bones and left it feeling hollow and bleak. There's barely any of the character building elements other than the DA and I feel sad when I think about all of the wonderful side plots that were missed out on.
5. Favourite Quote?
There are so many wonderful quotes in this series, I couldn't possibly pick just one so here are some of my favourites (which I'm sure you've all heard many, many times before):
"…[T]he world isn't split into good people and death eaters. We've all got both light and dark inside us. What matters is the part we choose to act on. That's who we really are." – Sirius Black

"If you want to know what a man's like, take a good look at how he treats his inferiors, not his equals" – Sirius Black

"Words are, in my not-so-humble opinion, our most inexhaustible source of magic. Capable of both inflicting injury, and remedying it." – Albus Dumbledore
And a quote that's especially important to remember in the world of today:
"We are only as strong as we are united, as weak as we are divided." – Albus Dumbledore
6. Favourite Weasley
Fred and George – they're a package deal. They never fail to make me laugh and I enjoy every scene they're in.
7. Favourite Female Character?
Hermione Granger – it may seem a bit cliche but Hermione was one of my favourite characters growing up. She was brave, hardworking, smart, and without her, poor Harry would have been a very dead chosen one not far into the series.
8. Favourite Villain?
This is a tough one. Umbridge, for example, is a "good" villain but she also happens to annoy the hell out of me. I think I may go with Barty Crouch Jr/Mad Eye Moody for this one. Mad Eye is such an entertaining character in Goblet of Fire, but because it's not actually him, I guess it's Barty I find so enjoyable. I like the unpredictability, the thought and patience that went into his plans, and the backstory to him ending up masquerading as Moody.
9. Favourite Male Character?
I have a bit of a soft spot for Neville. He's such a sweet character – clumsy, forgetful, and loves plants. How could you not love that? I also like the fact that over time he gets more chances to showcase just why he got selected for Gryffindor house – deep down, he's got the heart of a lion (well, except where Snape and his Grandma are concerned).
10. Favourite Professor?
Minerva McGonagall – that woman is amazing. The sass alone is enough but she also happens to be a badass who can shapeshift into a cat. Need I say more?
Lupin gets points as well for always having a stash of chocolate on hand.
11. Wash Snape's Hair, or Spend a Day Listening to Lockhart Rant about Himself?
Snape's hair because I'm sure there's an easy spell for that somewhere.
12. Duel and Elated Bellatrix, Or an Angry Molly?
An angry Molly because Bellatrix is freaking scary and crazy as hell. At least Molly could probably be reasoned with. Probably.
13. Travel to Hogwarts Via Hogwarts Express or Flying Car?
The Hogwarts Express, hands down. Watch all the beautiful scenery go by and eat a million sweets from the trolley at the same time, yes, please!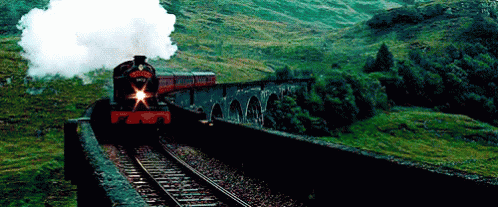 14. Kiss Voldemort, or Give Umbridge a Bubble Bath?
Er, neither. Is that an option? If not, maybe the bubble bath provided I get earplugs and a blindfold.
15. Ride a Hippogriff, or Ride a Firebolt?
Definitely a Firebolt. As lovely as Buckbeak is, I'm not so big on birds (terrified of them actually) and hippogriffs have eagle heads so that'd be a no. Broom all the way.
16. Is there a Character you felt Differently about in the Movies VS the Books?
Ah, Ginny. I really, really like Ginny in the books – she's such a strong character but she's massively shortchanged in the films to the point where she's almost a non-entity unless the plot specifically requires her to show up e.g. Chamber of Secrets, romancing Harry. So disappointing
17. Is there a Movie you preferred over its book?
I do love the movies, but no. The books are better.
18. Richard Harris or Michael Gambon as Dumbledore?
I think Richard Harris is absolutely the perfect Dumbledore. Visually he's fantastic and just has the perfect combination of quiet strength, quirkiness, kindness, and intelligence that Dumbledore possesses. However, there are moments where I wonder how he would have done with some of the more action-packed parts of the books such as the fight with Voldemort in book 5, especially since Michael Gambon managed these very well. Guess we'll never know.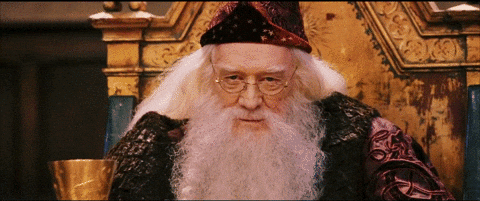 19. Your Top Thing (Person or Event) which wasn't Included in the Movies that Annoyed you the Most?
God. Just one? Peeves, SPEW and the house elves (especially Winky), Hermione & Ron's prefecture, Hermione blackmailing Rita Skeeter to help Harry, Cho blowing up at Harry in some teeny-tiny teashop, there are so many things I wish had been included but I recognise the fact that a lot of them weren't necessary to the overall plot.
20. If you could Remake any of the Potter Movies, which would it be?
Order of the Phoenix, surprise, surprise. I'd split it in two and add in more of the side plots from the book to enrich the characters and story.
21. Which House was your First Gutfeeling you'd be a Part of?
I think everyone wanted to be a Gryffindor when they were little but as I got older I came to realise that Hufflepuff is where my heart truly lies. Loyalty, honesty, and dormitories right near the kitchen. Sounds about right.
22. Which House were you Actually Sorted into on Pottermore?
Back before Pottermore was re-vamped, I did the quiz and got sorted into Hufflepuff. After the changes, I had to do the quiz again for some reason and ended up in Gryffindor, surprisingly. I guess I'm more a Gryffinpuff (or Huffledor) than I realised.
23. Which Class would be your Favourite?
I think Charms would be a lot of fun – levitating feathers, freezing things, making your wand light up, and so on, but Defence Against the Dark Arts could be exciting as well.
24. Which Spell do you Think would be the Most Useful to Learn?
Lumos would certainly be useful when you need to do something in the middle of the night without waking everyone up (or stepping on a cat, in my case), but I'm extremely lazy so Accio would probably be my pick.
25. Which Character do you Think You'd Instantly Become Best Friends with?
Hagrid – I could teach him how to bake better and he could convince me to get out of the house more. Plus the hugs would be amazing, and I'd get to pat Fang.
26. If you Could Own One of the Three Hallows, Which Would it be?
The invisibility cloak. Nobody should have the power of the Elder Wand, plus I don't want people murdering me for it.  The stone scares me a little and it seems a bit unhealthy in encouraging you not to let go of those who've died. However, I can't deny that it'd certainly be cool to have conversations with some famous dead people.
27. Is there any Aspect of the Books You'd Want to Change?
Hm, I haven't read them in a few years now so things aren't as fresh in my mind as they could be. The only thing that comes to mind at the moment is maybe the first section of Deathly Hallows. There's a lot of what feels like nothing and during my first read, it did get a bit boring. I wish there'd been more direction, less bickering.
28. Favourite Marauder?
All of them are great except Peter but if I had to pick, probably Lupin as James and Sirius did some bullying in their teen years which I'm not a fan of.
29. If you could Bring one Character Back to Life, which would it be?
Hedwig. I don't even like birds and her death was bloody traumatising. I get it was supposed to be about the loss of innocence and all that, but really, WHY??
30. Hallows or Horcruxes?
Hallows. I'm not really up for (a) murdering people, (b) tearing up my soul, or (c) living forever. Nope, nope, nope.
There we have it, 30 questions done! Some of them were quite difficult, too. Doing this definitely made me want to do a re-read of the series. It's been AGES. But when do I find the time? The TBR just never stops growing (aka. I never stop buying new books, so it's my own fault).
Enough from me, tell me all about your own HP favourites and disappointments! What's your house, favourite book, and fave character?