Technically this week's topic is about upcoming releases but I've expanded it to include all 2019 releases, even ones that have come out. Sometimes it's hard to know whether you want to read a book or not. Maybe the blurb sounds good but the reviews don't, perhaps there are conflicting reviews, or maybe it's an author you love but the book itself just doesn't sound like it'll float your boat. Here are ten 2019 releases that I'm currently on the fence about reading:
On the Come Up – Angie Thomas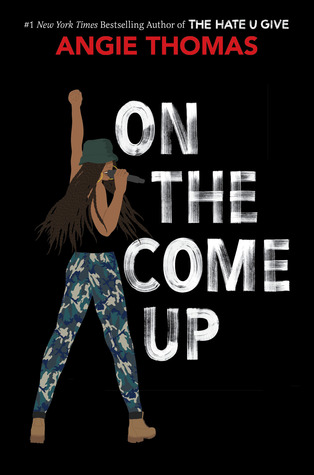 Bri wants to be one of the greatest rappers of all time. Or at least make it out of her neighborhood one day. As the daughter of an underground rap legend who died before he hit big, Bri's got big shoes to fill. But now that her mom has unexpectedly lost her job, food banks and shutoff notices are as much a part of Bri's life as beats and rhymes. With bills piling up and homelessness staring her family down, Bri no longer just wants to make it—she has to make it.
---
Why the Fence? I read THUG in 2018 after being on the fence for ages. I ended up doing it because I'd heard it was amazing and also decided it concerned important topics I should educate myself on. This one, I'm unsure about. I'm not a rap or hip-hop fan at all so the plot of OTCU doesn't really grab or interest me but Angie is a great writer so ugh! Indecision.
Children of Virtue & Vengeance (Legacy of Orïsha 2#) – Tomi Adeyemi
Zélie and Amari have succeeded in bringing magic back to Orïsha. Not only to the maji but nobles with magic ancestry, too. Now Zélie must face the struggle to unite them. But when the monarchy and military unite to maintain of Orïsha, Zélie must fight to secure Amari's right to the throne and protect the new maji from the monarchy's wrath. With civil war looming on the horizon, Zélie finds herself at a breaking point: discover a way to bring the kingdom together or watch as Orïsha tears itself apart.
---
Why the Fence? *sigh* There were things I liked about Children of Blood and Bone when I read it last year but also a lot of things that frustrated or bored me. In the end, I gave the book a 3.5-star rating. I'm just not sure if the good things are enough to get me to read the sequel.
Slayer – Kiersten White
Nina and her twin sister, Artemis, have grown up at the Watcher's Academy. Here teens are trained as guides for Slayers—girls gifted with supernatural strength to fight the forces of darkness. Nina has never embraced the violent Watcher lifestyle. Instead, she follows her instincts to heal, carving out a place for herself as the school medic. That is, until the day she becomes the newest Chosen One. However, when bodies start turning up, Nina will have to use her new powers to put a stop to it or potentially risk losing someone she loves.
---
Why the Fence? I am a huge Buffy the Vampire Slayer fan. Enormous. So the idea that someone decided to write a YA book set in the Buffy-verse makes my nerdy heart go wild. The problem is that I've seen some really great reviews and some really…not so good reviews. Apparently, the humour is on point but it's a slog to get through until the last third. I'm just super worried I'm going to end up disappointed.
Romanov – Nadine Brandes
Anastasia "Nastya" Romanov was given a single mission: to smuggle an ancient spell into her suitcase on her way to exile in Siberia. It might be her family's only salvation. But the leader of the Bolshevik army is after them . . . and he's hunted Romanov before. Nastya's only chances of survival are to either release the spell, and deal with the consequences, or enlist help from Zash, the handsome soldier who doesn't act like the average Bolshevik. Nastya's never dabbled in magic before, but it doesn't frighten her as much as her growing attraction for Zash. She likes him. She thinks he might even like her . . .
That is, until she's on one side of a firing squad . . . and he's on the other.
---
Why the Fence? I love Anastasia – both the animated movie and the fascinating history surrounding the Russian Revolution so this caught my interest easily. There's also magical elements which, as you guys know, I'm like a moth to a flame for. My worry is that this'll be another instalove, sappy and overly dramatic relationship that'll dominate all other aspects of the plot. I've been burnt too many times before. Do I risk it and perhaps end up finding something really good or skip it?
There's Something About Sweetie – Sandhya Menon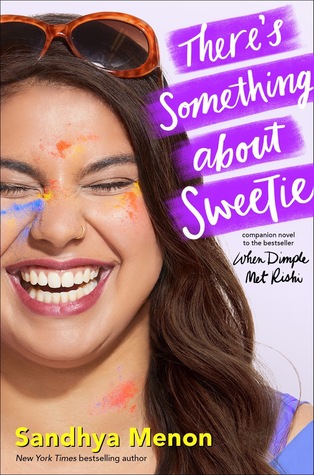 Ashish Patel didn't know love could be so…sucky. After he's dumped by his ex-girlfriend, his mojo goes AWOL. Even worse, his parents are annoyingly, smugly confident they could find him a better match. So, in a moment of weakness, Ash challenges them to set him up.
Sweetie Nair is many things: a formidable track athlete who can outrun most people in California, a loyal friend, a shower-singing champion. Oh, and she's also fat. To Sweetie's traditional parents, this last detail is the kiss of death. Sweetie loves her parents, but she's so tired of being told she's lacking because she's fat. She decides it's time to kick off the Sassy Sweetie Project, where she'll show the world (and herself) what she's really made of.
Ashish and Sweetie both have something to prove. But with each date they realize there's unexpected magic growing between them. Can they find their true selves without losing each other.
---
Why the Fence? This book sounds super cute and I love the fact that it features a female lead with a bigger body type wanting to enjoy being her best self. My issue is that when I read Menon's When Dimple Met Rishi, I had a lot of issues with the story like rushed romantic development, annoying characterisation, and frustrating and unnecessarily drawn-out conflict scenarios. My worry is that I'll have the same issues here.
Sorcery of Thorns – Margaret Rogerson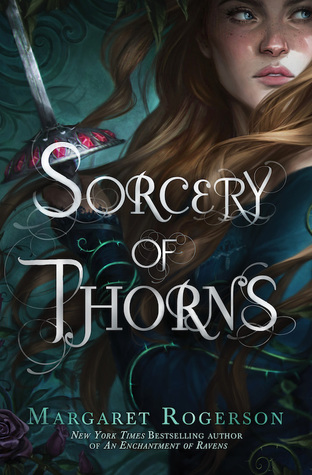 Elisabeth dreams of being a warden at one of Austermeer's Great Libraries – those tasked with protecting the kingdom from magical grimoires which have the potential to transform into monsters. When an act of sabotage releases the library's most dangerous grimoire, Elisabeth is implicated and sent to the capital to face justice. Left with no one to turn to, she finds an unexpected ally in the mysterious sorcerer, Nathaniel Thorn. As Elisabeth's alliance with Nathaniel grows, she finds herself forced to question everything she's been taught about the evil of sorcerers, the Great Libraries, and herself, and soon becomes entangled in a conspiracy that could mean not only the end of the libraries but the world.
---
Why the Fence? The blurb for this book sounds awesome – magic, powerful books and libraries, conspiracies. This could be right up my alley. Plus the cover looks so good! My main issue is that I read Margaret Rogerson's debut, An Enchantment of Ravens, and was disappointed by its average-ness (including the rushed romance). It wasn't bad, just not great either. I wonder if Sorcery of Thorns will be different?
Wicked Saints – Emily A. Duncan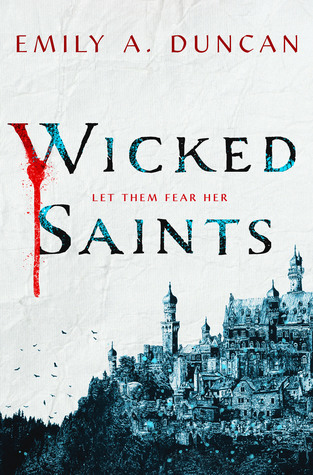 A girl who can speak to gods must save her people without destroying herself. A prince in danger must decide who to trust. A boy with a monstrous secret waits in the wings. Together, they must assassinate the king and stop the war. In a centuries-long war where beauty and brutality meet, their three paths entwine in a shadowy world of spilled blood and mysterious saints, where a forbidden romance threatens to tip the scales between dark and light.
---
Why the Fence? I am so torn on this one. I've heard that it's dark, a little gothic, a good pick for Leigh Bardugo fans, and got a great magic system. And yet, apparently, it's got a serious case of instalove. Worse, this romantic storyline renders the female lead a bit stupid and naive. Ugh, I can already feel the frustration brewing.
Kingsbane (Empirium 2#) – Claire Legrand
Rielle Dardenne has been anointed Sun Queen, but her trials are far from over. The Gate keeping the angels at bay is falling. To repair it, Rielle must collect the seven hidden castings of the saints. Meanwhile, to help her prince and love Audric protect Celdaria, Rielle must spy on the angel Corien — but his promises of freedom and power may prove too tempting to resist. Centuries later, Eliana Ferracora grapples with her new reality: She is the Sun Queen, humanity's long-awaited savior. But fear of corruption — fear of becoming another Rielle — keeps Eliana's power dangerous and unpredictable. Hunted by all, racing against time to save her dying friend Navi, Eliana must decide how to wear a crown she never wanted — by embracing her mother's power, or rejecting it forever.
---
Why the Fence? Like with Children of Blood & Bone, this is another book where I enjoyed parts of the first one but also had several issues that might dissuade me from continuing. Still, I'm tempted because I feel as though this book will fill in a lot of the knowledge gaps I had in book one and considering where Eliana's story finished, her story is likely to be more interesting this time around. Hm, guess I'll see.
The Storm Crow – Kalyn Josephson
In the tropical kingdom of Rhodaire, magical, elemental Crows are part of every aspect of life…until the Illucian empire invades, destroying everything.
That terrible night has thrown Princess Anthia into a deep depression. Her sister Caliza is busy running the kingdom after their mother's death, but all Thia can do is think of all she has lost.
But when Caliza is forced to agree to a marriage between Thia and the crown prince of Illucia, Thia is finally spurred into action. And after stumbling upon a hidden Crow egg in the rubble of a rookery, she and her sister devise a dangerous plan to hatch the egg in secret and get back what was taken from them.
---
Why the Fence? So, this is like Eragon but with crows. Part of me is like YES and the other is like, magical crows? Wtf? I also happen to have a massive bird phobia, so there's that. The world building has been said to be a little iffy. but the book is supposed to have great friendship, a banter-y romance, some twists and well developed female characters. Could go either way for me, really.
Dev1at3 (Lifel1k3 2#) – Jay Kristoff
Lemon Fresh has seen better days. After the climactic battle in Babel, she finds herself separated from Ezekiel and Cricket in the wastelands. Lemon's abilities to manipulate electricity mark her as a deviate, and deadly corporate operatives are hunting her to use as a weapon in the war between BioMaas Incorporated and Daedelus Technologies. Instead, Lemon finds herself falling in with a group of fellow deviates—a band of teenagers with astonishing abilities, led by an enigmatic figure known as the Major, who may hold the secrets to Lemon's past.
Meanwhile, Cricket finds himself in possession of the puritanical Brotherhood, a religious cult set for a head-on collision with the Major and his band. Searching for Lemon, Ezekiel finds a strange ally in an old enemy, and uncovers a plot that may see him reunited with his beloved Ana.
And inside Babel, a remade Eve hatches a plan to bring an end to the world.
---
Why the Fence? I love Jay Kristoff. He's easily one of my favourite authors. I liked Lifel1k3 when I tackled it last year but I wasn't in love. While I was pretty sure I'd read the sequel then, with time I've become less positive. This particular book seems to focus on Lemon who I did like but I'm unsure whether I'd want a book centred around her. Yet, after where book one finished, part of me is still keen to see where it leads.
Which 2019 releases are you on the fence about?
For more Top 10 Tuesday Topics, visit That Artsy Reader Girl.