We're getting towards the middle of the month so I thought it might be a good time for reading check-in in the form of WWW Wednesday. Hosted by Taking on a World of Words, WWWW asks the big three questions: what have you recently finished, what are you currently reading, and what's up next?
Strange the Dreamer – Laini Taylor
As I mentioned in my May wrap up, I went into this month doing a reread of Strange the Dreamer. Luckily for me, it was just as good the second time around. As someone who's not usually a fan of flowery descriptions, I still can't get over just how gorgeous Laini's writing is. Some of her phrases… they're like poetry. The world building in this one is also a high point for me and I love how the story somehow manages to have this whimsical tone at multiple points whilst also dealing with darker themes like trauma. Having finished this, I'm now finally ready to tackle…
Muse of Nightmares – Laini Taylor
Yep, finally. I bought this book right after its release and like usual, here we are, ages later. Muse of Nightmares is way too pretty to be sitting unread. So far, I'm about 200 or so pages in and enjoying it. I like the addition of the new characters and I'm interested to see where their storyline goes. It's nice to be getting some clarification on certain things from book one and I'm glad each of the side characters from Strange the Dreamer have continued to get some time in the limelight, even with everything going on with Lazlo, Sarai and Minya.
Magic for Liars – Sarah Gailey
Weirdly enough, I was approved for an ARC of this one on the day it came out. It was kind of a head scratching moment. Anyway, I've started it, but it's still very early days. I like the concept for this one – a non-magical PI trying to solve a murder at a school for mages – so I'll have to see how it plays out. At this point I'm certainly intrigued enough to keep going. Fingers crossed it's a good read and it doesn't take me a million years to finish it.
All the Bright Places – Jennifer Niven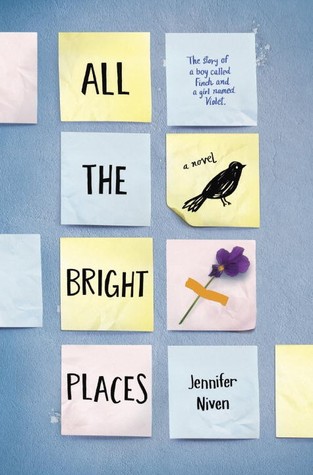 Next up I think I'll be opting for something a bit shorter after two slightly longer reads which means it's time for a YA contemporary. I've been hearing good things about All the Bright Places for years (it even won a Goodreads choice award back in 2015) so it'll be nice to see what the fuss is all about, especially with the adaptation coming out…at some point. Hopefully I'll end up in the majority opinion wise. It's always so disheartening when I'm not *sigh*.
I hope June is progressing well for you all and that you're finding plenty of books to add to your top ten books of the first half of 2019!