As my family and close friends know, I'm a big Buffy fan. Huge. Enormous. I mean, this is a show that absolutely revolutionised TV in the 90s. I pretty much try to get everyone I know to watch it at some point. Amazing characters, great dialogue, gripping plots, badass action scenes, female empowerment, one of the first ongoing gay relationships on TV, the best musical episode of a non-musical TV show ever (fight me), some corny but fun CGI…it's just so good. Go watch it if you haven't already.
Anyway, when I came across a book tag devoted especially to it, I knew I had to do it. Just HAD TO. This tag was originally created by Lauren over at Book Slaying but was then changed slightly by Sarah at Written Word Worlds. I'm going to do a combination of the two versions, with my own changes and additions because why not? Let's get slayin'.
---
Buffy: A Character Who Lives a Double Life
Nova Artino (Renegades- Marissa Meyer)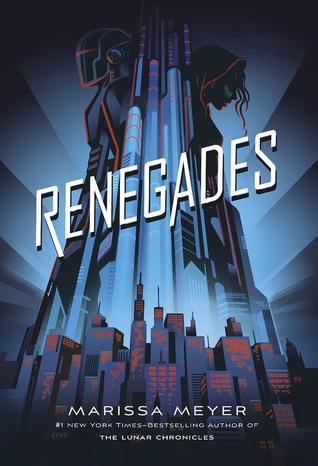 There were a few options for this one but I've decided to go with Nova. In Renegades, Nova's allegiance is to the so called 'Villains' group in society. She resents the Renegades, (who act as the city's political body/law enforcement group) for their past failures, and believes they're not what they claim or people hold them up to be. In order to gain valuable intelligence on the inner workings of the Renegades team, she joins them, complete with an entirely new (and fake) personal history.
---
Willow: A Badass Witch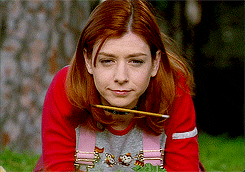 Manon Blackbeak (Throne of Glass series – Sarah J. Maas)
I don't use Throne of Glass related things for many prompts. It's mainly because I wasn't a huge fan of the series and only made it about 4 books in. Still, there's no denying that Manon is 100% a badass witch. Or more specifically, a scary-ass witch. I mean, she's killed people and actually drank their blood, has retractable iron fangs and nails, and she flies a wyvern. Combine that with an icy, ruthless and determined personality, and the end result is…well, don't cross her if you can avoid it.
---
Xander: A Character Who Mostly Provides Comic Relief
M-BOT (Skyward – Brandon Sanderson)
While M-Bot certainly has its other purposes, as you do being a super advanced stealth space ship, its main contribution to Skyward is as comic relief. If you're laughing at something during this book, 80% chance it'll be M-Bot. Sometimes it's talking about its drive to catalogue mushrooms, others it's randomly hacking into Spensa's communications channel to give commentary, and then there's the constant crapping on poor Rig as he attempts to repair it. Regardless, M-Bot is an easy fan favourite.
---
Giles: A Parental Figure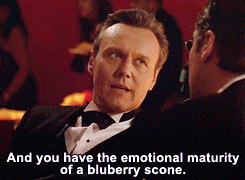 Miss Honey (Matilda – Roald Dahl)
Honestly, can you guys think of a more perfect parental figure than Miss Honey? She's kind, gentle, smart, wants the best for each of her students, and tries hard to ensure that Matilda will receive the kind of care and education that she deserves. The two develop a special bond with Matilda using her telekinetic powers to ensure the return of Miss Honey's home and inheritance from Principal Trunchbull. By the end of the book, Matilda goes to live with Miss Honey and it's pretty much a happily ever after.
---
Dawn: Favourite Sibling Relationship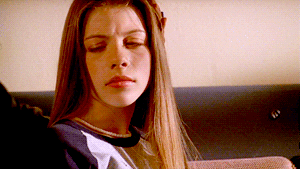 Tyler & Scarlett Jones (Aurora Rising – Jay Kristoff & Amie Kaufman)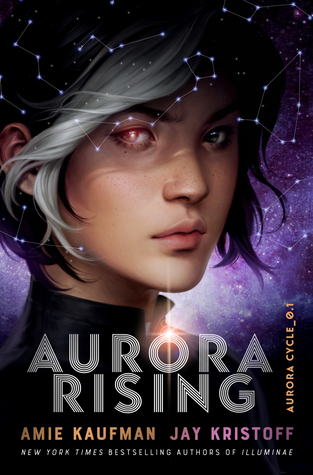 Ugh, Dawn. I almost changed this prompt to 'A character you found ridiculously annoying'. There are a few sibling relationships I really love, but for the sake of variety, I've picked Tyler and Scarlett. Having just finished Aurora Rising, these two are fresh in my memory. They have a great degree of banter, trust one another, are able to communicate with little more than a look or a raised eyebrow, and have faith in the other's abilities. Ty and Scarlet are squadmates and siblings but more importantly they're good friends.
---
Oz: A Book With Werewolves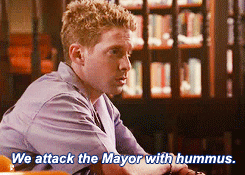 Nightshade -Andrea Cremer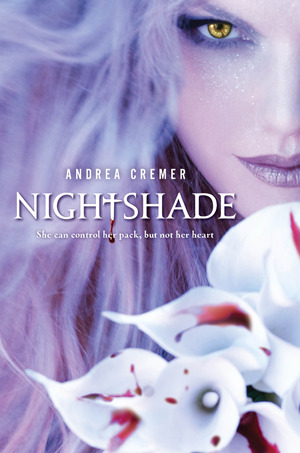 I read this book YEARSSSSS ago and I can't remember anything about it other than it was about werewolves and the main character's name was Calla. Based on my GR review, I must have liked it somewhat (but not enough to read the sequel). Obviously I was drawn in by the pretty purple cover. Gosh, that's a nice colour. I have a sneaking suspicion that I wouldn't be so keen on it were I to read it now – male wolf dominance, love triangles and all that, but eh, it's a werewolf book and it's something different from my usual book tag choices.
---
Cordelia: A Character Who Undergoes Major Growth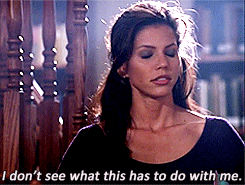 Zoya Nazyalensky (The Grisha Trilogy & King of Scars – Leigh Bardugo)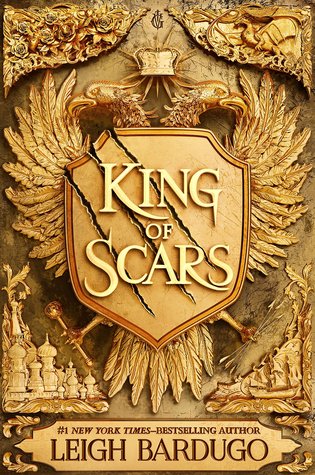 When we first meet Zoya, to put it mildly, she's kind of a raging bitch. But after being knocked off her pedestal and then joining Alina's & Nikolai's fight against The Darkling, she undergoes some great character development. However, much like with Cordelia Chase, it's a spin off that really gives her the chance to shine. Zoya is sassy, resilient, able to handle Nikolai (a feat in itself), a badass grisha, and has not got time for your shit. Basically, we stan. Zoya for Queen of Ravka.
---
Angel: An Extremely Broody Character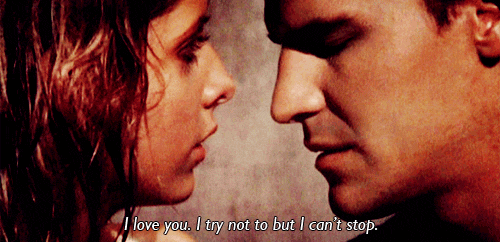 Victor Vale (Vicious – V.E. Schwab)
Ah, Victor. You're certainly a very broody character. Admittedly, this is fairly understandable because: (a) he went to prison for years for a murder he committed accidentally, giving him plenty to brood about, (b) how else would he plot his nemesis & former friend's demise?, and (c) it just fits his whole gloomy, anti-hero image. So, in Victor's case, unlike some other's, it actually works very well.
---
Spike: A Character with a Redemption Arc
Severus Snape (Harry Potter Series – J. K. Rowling)
To avoid reusing Holland from ADSOM for the millionth time, I'm going with Severus Snape. In fairness, I don't think I've ever used this one in a book tag before despite how popular a choice it must be and how much I love HP. Snape definitely has some massive flaws and he's far from being fully redeemed by the end of the series. However, our view of him as a character is certainly very much improved in Deathly Hallows by the introduction of a whole bunch of new info about past events.
---
Tara: A Book with a LGBTI Relationship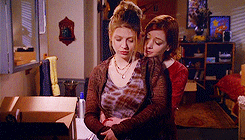 Alex & Henry (Red, White & Royal Blue – Casey McQuiston)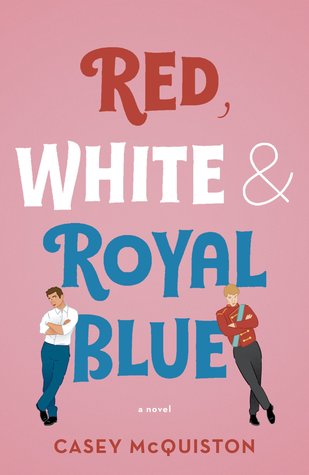 There are so many wonderful LGBTI ships out there in fictional land. I recently finished this book so it's been on the brain which is probably why I jumped here first. However, it's also probably because these two are so darn CUTE. Ahhhhhh. Alex is smart-mouthed and outgoing while Henry is a closet-nerd and major romantic. The two start out a bit rough but eventually their relationship develops into hilarious late night texting convos, sexy, secret rendezvous, and some genuinely sweet heart to hearts.
---
Anya: A Character Who Grew on You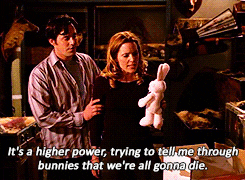 Nesta Archeron (ACOTAR Series – Sarah J. Maas)
Yes, more SJM. I'm sorry I'm a cliche, okay.
If you happen to go through my read along posts for ACOTAR, you'll find that I didn't have many nice things to say about Feyre's sisters early on. Nesta can be harsh, closed off and selfish, but after spending more time with her, I ended up loving that she was a more emotionally complex character. Some people will find it difficult to like her but I know she's going to have her moment once the new series kicks into gear. Also, if she doesn't end up with Cassian, I'll riot.
---
Faith: A Character with Questionable Allegiances
Ashlinn Jarheim (Nevernight Series – Jay Kristoff)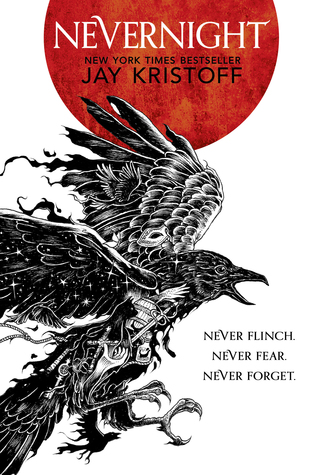 Ah, Ashlinn. I can't really say much on this one without giving away major spoilers to anyone who hasn't read Nevernight. If that's you, go do it already! Before book three comes out in September! I will say that she's sassy, resourceful, and calculating, and I'm looking forward to seeing where she ends up at the end of the series. Somehow I doubt she'll do any more plot twisty things but considering her character, you never can be entirely sure.
Are you a Buffy the Vampire Slayer fan? I love finding people to gush about amazing TV shows with, especially older ones. If so, who's your favourite character?
I definitely think it's time for a re-watch!