As usual, TTT is a weekly meme by the The Broke and the Bookish and it's currently on hiatus so that means picking whatever takes my fancy from the list of previous topics. This week I'm doing villains. In no particular order here are some of what I consider to be the best:
Voldemort (Harry Potter Series –  J. K. Rowling)
Snake-like face, soul split into multiple pieces in order to cheat death, set on murdering teenagers year after year… yep, as if I wasn't going to put him on this list.
Ramsey Bolton (A Song of Ice and Fire – George RR Martin)
I'd wager that when you think about the crappiest of the Song of Ice and Fire villains your mind either jumps to a) Joffrey Baratheon or b) this little shit:
When your favourite past times include flaying, raping, dismemberment, and feeding people to your dogs, you definitely deserve a spot on a top 10 villains list.
It or Pennywise (It – Stephen King)
Books don't usually manage to scare me, but I'll admit that for most of this novel I was a little bit nervous. If you aren't afraid of clowns, this'll help you understand why someone could be. A creepy, clown shaped, ancient entity that can make your worst fears a reality and spends his time eating children…
Nope. Nope. Nope. I'm out.
Amy Dunn (Gone Girl – Gillian Flynn)
I wish I could find a better way to describe Amy than this, but here it is: This bitch be crazy. Like verging on sociopath material. In a book full of shades of grey characters, it's saying something that Amy's able to stand out. I won't say much about the why and how because SPOILERS but trust me, she belongs here for a reason.
The Darkling (Shadow & Bone – Leigh Bardugo)
This is probably one of the few likeable villains on my list. And by likeable I mean I actually sat around thinking: if this guy basically succeeded in killing everyone else in the book right now, I'd probably be cool with that. That is some solid charisma right there. I can't even explain it, he's evil. Really, really evil. But do I like him more than the love interest? Yep, 100%.
Count Olaf (A Series of Unfortunate Events – Lemony Snicket)
Count Olaf isn't what you'd call a successful villain but you do have to give him points for determination. No matter how many times he's defeated by three intelligent orphans, he's back at it in the next book with another not so brilliant plan, a terrible disguise, and and high levels of self-confidence.
Annie (Misery – Stephen King)
The second of the two King villains on this list. Anyone who will smash your legs with a sledgehammer to get you to write a novel, uses individual hairs as a security system, and can survive being hit in the head with a typewriter is someone to be very, very afraid of. Annie is, to put it bluntly, freakin' crazy.
Hannibal Lecter (Silence of the Lambs, Hannibal – Thomas Harris)
I love intelligent villains. Sure, crazy ones are fun on occasion but having a villain that actually poses a challenge for the hero in more than just a physical sense is fantastic. Hannibal is a great example of this. He's articulate, calculating, suave, and well, happens to be a cannibal. While he's not actually the central villain of either of these novels, there's never a moment when you're not wondering exactly what's going on inside his head and suspecting that it's something sinister.
The White Witch (The Lion, the Witch, and the Wardrobe – C. S. Lewis)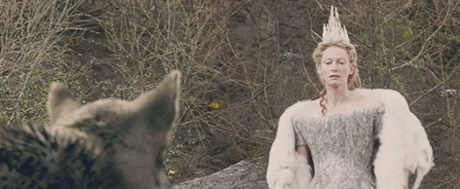 Anyone who can manage to turn sweets into something dodgy is bad news in my books. Sure, there's the turning people into ice sculptures, killing Aslan, stopping the change of seasons and well, kind of removing all joy from the world, but honestly, for me, her biggest act of villainy is probably stopping Christmas from ever happening. How dare she! I LOVE Christmas.
The Witch King of Angmar (The Lord of the Rings – J.R.R. Tolkien)
So originally I was going to put Sauron in this spot but then I realised that he kind of does stuff all and just sits around on his fiery butt while everyone else does all the work for him. And then we have this guy…
Head of the Nazgul, rides a massive dragon-like creature, almost kills Frodo with a poisoned blade, wields a mace like a nutjob, and is just generally creepy as all hell. No man can kill this guy. Lucky we had Eowyn.