For those who don't know (I'm not sure if there is actually anyone still out there), TTT is a weekly meme hosted by The Broke and the Bookish. Each week a new topic is posted for people to express ten thoughts on a particular theme. The meme is on hiatus until August but because I've never done a TTT before there are HEAPS for me to choose from and have fun with in the meantime. The fictional world is full of wonderful couples that make us swoon, and squeal, and yell "I will go down with this ship!". Here are 10 of my favourites (in no particular order).
1. Henry & Clare (The Time Traveller's Wife)
"I place my hands over her ears and tip her head back, and kiss her, and try to put my heart into hers, for safekeeping, in case I lose it again."
** *** **
"I hate to be where she is not, when she is not. And yet, I am always going."
2. Jamie & Claire (Outlander)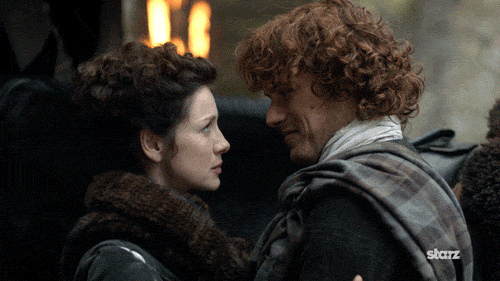 "When the day shall come that we do part," he said softly, and turned to look at me, "if my last words are not 'I love you'-ye'll ken it was because I didna have time."
** **** **
"You are my courage, as I am your conscience," he whispered. "You are my heart—and I your compassion. We are neither of us whole, alone. Do ye not know that, Sassenach?"
3. Feyre & Rhys (ACOTAR)
"I fell in love with you, smartass, because you were one of us—because you weren't afraid of me, and you decided to end your spectacular victory by throwing that piece of bone at Amarantha like a javelin. I felt Cassian's spirit beside me in that moment, and could have sworn I heard him say, 'If you don't marry her, you stupid prick, I will." 
4. Ron & Hermione (Harry Potter)
'OK, write that down,' Hermione said to Ron, pushing his essay and a sheet covered in her own writing back to Ron, 'then add this conclusion I've written for you.'
'Hermione, you are honestly the most wonderful person I've ever met,' said Ron weakly, 'and if I'm ever rude to you again -'
'- I'll know you're back to normal,' said Hermione.
5. Anne & Gilbert (Anne of Green Gables)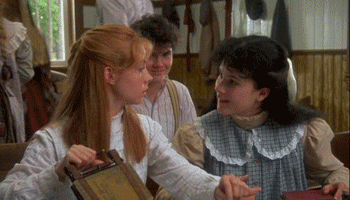 For a moment Anne's heart fluttered queerly and for the first time her eyes faltered under Gilbert's gaze and a rosy flush stained the paleness of her face. It was as if a veil that had hung before her inner consciousness had been lifted, giving to her view a revelation of unsuspected feelings and realities. Perhaps, after all, romance did not come into one's life with pomp and blare, like a gay knight riding down; perhaps it crept to one's side like an old friend through quiet ways; perhaps it revealed itself in seeming prose, until some sudden shaft of illumination flung athwart its pages betrayed the rhythm and the music, perhaps…perhaps..love unfolded naturally out of a beautiful friendship, as a golden-hearted rose slipping from its green sheath.
6. Katniss & Peeta (The Hunger Games)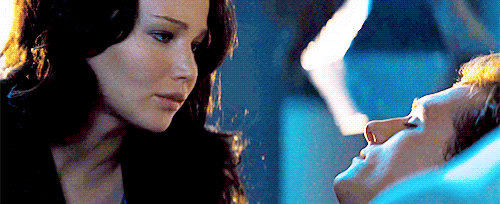 [W]hat I need to survive is not Gale's fire, kindled with rage and hatred. I have plenty of fire myself. What I need is the dandelion in the spring. The bright yellow that means rebirth instead of destruction. The promise that life can go on, no matter how bad our losses. That it can be good again. And only Peeta can give me that. So after, when he whispers, "You love me. Real or not real?" I tell him, "Real."
7. Rose & Dimitri (Vampire Academy)
"She was right about something else too," Dimitri said after a long pause. My back was to him, but there was a strange quality to his voice that made me turn around.
"What's that?" I asked.
"That I do still love you."
With that one sentence, everything in the universe changed.
8. Alec & Magnus (TMI)
"What welcome?" Magnus asked. "I'd say it was a pleasure to meet you, but it wasn't. Not that you aren't all fairly charming, and as for you—" He dropped a glittery wink at Alec, who looked astounded. "Call me?"
Alec blushed and stuttered and probably would have stood there all night if Jace hadn't grasped his elbow and hauled him toward the door, Isabelle at their heels. 
9. Kaz & Inej (Six of Crows)
"I will have you without armor, Kaz Brekker. Or I will not have you at all."
** *** **
"I can hear the change in Kaz's breathing when he looks at you."
"You… you can?"
"It catches every time, like he's never seen you before."
10. Will & Tessa (TID)
"Marry me," he said. "Marry me, Tess. Marry me and be called Tessa Herondale. Or be Tessa Gray, or be whatever you wish to call yourself, but marry me and stay with me and never leave me, for I cannot bear another day of my life to go by that does not have you in it." 

Who are some of your favourite couples in books?